Shearman and Sterling Featured in American Builders Quarterly
Shearman & Sterling Headquarters, New York City
Global Facilities Director Narrates with Space in American Builders Quarterly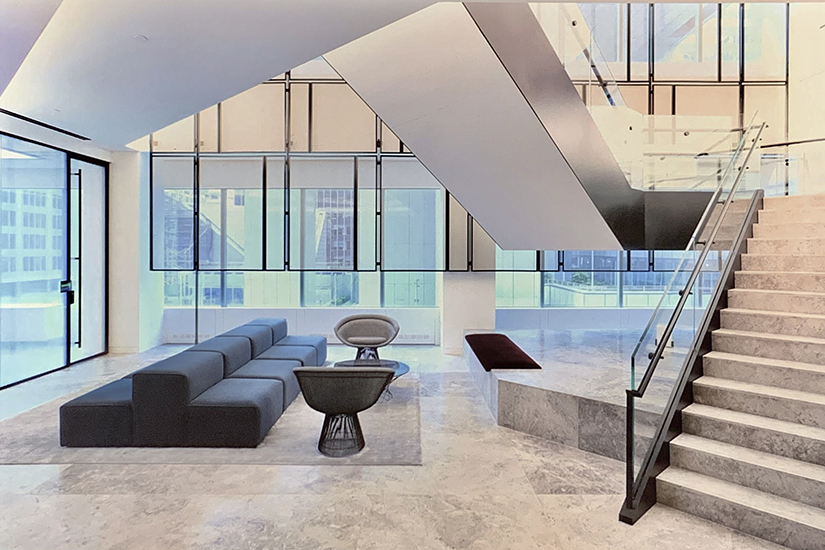 JFK&M is moving to completion a full gut renovation in a 340,000-sf corporate office restack for the global law firm, Shearman & Sterling, and the New York City headquarters. Led by the global real estate, operations, and technology teams, the Director of Global Real Estate, Arsha Cazazian-Clement, speaks on the vision for the project, and using the pandemic as a learning opportunity to employ new safety features and infrastructure.
"We really anchored into a deep partnership with our landlord to optimize air filtration and ionization. These enhancements will provide peace of mind to both personnel and clients in a post pandemic world as well as have a direct impact on performance and overall well-being in the workplace, " Cazazian-Clement says.
Common areas were intentionally designed for wellness and comfort in mind, and the project also champions sustainability.  The environmentally conscious project was planned for LEED Silver, and now aims for LEED Gold. Ethernet cables carrying power are tied to sensors that only activate when the individual space is occupied. One of several features in the project that reduces the overall carbon footprint.
JFK&M provided MEP/FP and IT design services and has delivered MEP design expertise in a variety of projects for Shearman & Sterling from due diligence studies to facility upgrades at other office locations. The firm continues to provide services, including a master MEP Basis of Design for use across offices. For the complete article in American Builders Quarterly, read more.