ACEC 2020 Engineering Excellence Awards: JFK&M Takes Home a Platinum Award
JFK&M Receives a Platinum Award from ACEC Engineering Excellence Awards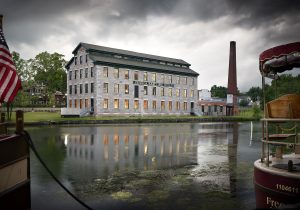 JFK&M Consulting Group was recognized by the American Council of Engineering Companies (ACEC) of New York and received a Platinum Award for the Rehabilitation of the National Women's Hall of Fame located in Seneca Falls, NY.
JFK&M was selected for this project by the local architect CJS Architects with offices in Buffalo and Rochester carrying expertise in historic/adaptive reuse projects.  With over 100 windows and having a complete gut renovation, limits to distribution of infrastructure, and a small basement crawl space, there was little room left for MEP systems. A geotechnical report indicated that the crawl space was also prone to flooding.  The solution was to build a small two-story MEP Equipment Room next to the Mill integrated into the historical site through similar design characteristics while working with height restrictions.
The former knitting mill is to become the preeminent place in the United States to celebrate the many accomplishments of women throughout history by creating a mix of spaces to house special exhibits, permanent exhibits to honor the 250+ current and future Inductees, showcase the history of the mill and its workers, and provide an educational center and a centrally located convening space.
The ACEC Engineering Awards are considered as the "Academy Awards" of the consulting engineering industry and is held annually in the spring to honor member firms for design achievements of superior skill and ingenuity. For more information on the project, please visit the project page.